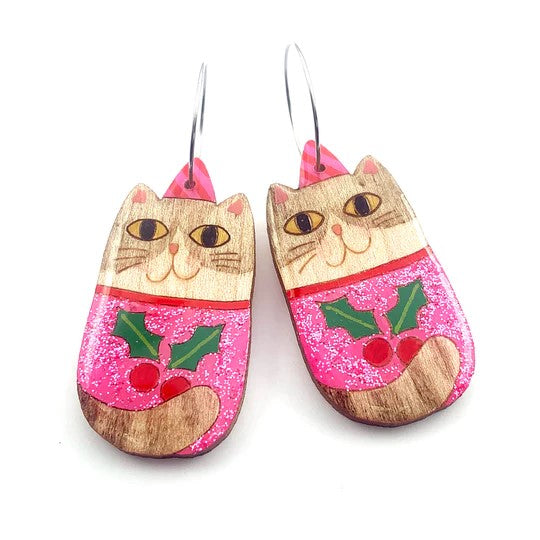 As much as I don't want to acknowledge it yet, the silly season is already upon us! 
I was asked 4 times last week for Christmas cards and gifts in store, and I had to go searching for my Christmas wrapping paper.
This year has really flown (or maybe its a sign I'm getting older), but since when did Christmas start on 1st October?   
Don't get me wrong I LOVE Christmas and make it a mission to make my house look like Christmas exploded in my living room, but I'm not quite ready yet....
In saying that, due to customer demand, Christmas has now launched!!! 
For those that are organized, or just keen to get your Aussie made Christmas gifts off overseas, you can find all your handmade Christmas goodies online and in store. 
From the cutest Christmas earrings, to knitted Christmas koalas & reindeers, to funny Christmas cards you can find it all HERE
Don't worry, we haven't put up the Christmas tree or Christmas windows yet but keep an eye out!  AND as always we have more arriving all the time, but once its gone, its gone! 
My top 5 Christmas Earrings
Earrings are always a very personal preference, but my 5 fave Christmas earrings I plan to rock this silly season are:
1. Painted Christmas Cats - Helen from Blossom & Cat has made the cutest hand painted Christmas Cats this year!!! It is very rare she makes Christmas earrings, but the cat lover has come up with the goods! If there is a quirky cat lady in your life, these are a winner
2. Australian Animal Christmas Studs - Nat at Rhyley Designs makes the most amazing themed earrings and her Christmas collection never disappoints. If you're looking for a cute, flat, Australiana gift to send away, you cant go past these Santa hat wearing cuties.
3. Ceramic Christmas Earrings - Nicole at Acacia Ceramics not only makes her gorgeous hanging platers and trinket dishes, but she also has a great earrings collection, including some Christmas goodies. If you are after something a bit finer, these are gorgeous! She has both studs and dangles available in trees, starts, snowmen and more.
 4. Glitter Prawns - What says Australian Christmas more than Prawns, and not just any prawn, but prawn earrings by the fabulous sisters at Snafu! These babies are a best seller over Christmas!
5. Serious Christmas Statement Earrings - for those serious Christmas celebrators, we have you covered with some serious statement earrings by Nat at Rhyley designs. Give me giant Christmas rainbow earrings and big Christmas Tree earrings all December long
And the winner of our Ultimate Handmade Giveaway is...
 To celebrate Finders Keepers on 13 October, we launched the Ultimate Handmade Giveaway with $750 worth of prizes from a bunch of our fabulous makers that had stalls at Finders Keepers !!  Thank you so much to everyone that entered!!! I hope you got to meet lots of new amazing makers! 
I am so excited to announce the winner is
TIFFANY RUSHEN
Congratulations!!!! I will be in touch shortly!